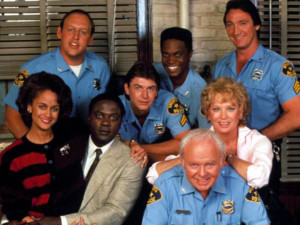 Originally aired in 1988, this series took off and became a hit with America. With a top notch cast In the heat of the night became one of the most watched crime dramas on TV in its day.
The series debuted as a midseason replacement for the short-lived NBC series J.J. Starbuck, premiering on March 6, 1988. The series ran on the network until May 19, 1992, then was shown on CBS until its finale after an eighth season, on May 16, 1995.
The show dealt with a variety of issues, including racism, police brutality, drug abuse, rape, AIDS, incest, child abuse, anti-Semitism, government corruption, homophobia, and drunk driving.
In the premiere episode, Tibbs, a Philadelphia police department detective, has returned to his childhood home (the fictionalized Sparta, Mississippi) for his mother's funeral. By virtue of his previous dealings with Gillespie, he is eventually persuaded by local politicians to remain in Sparta as its police department's new head detective, in an effort to improve the local squad's poor reputation of being racist and underskilled. Although the team have their friction such as with Tibbs' dissatisfaction with the department's limited resources and racial attitudes while Gillespie is annoyed at Tibbs' condenscending suspicion of his hometown, they prove highly effective enforcing the law in Sparta and the surrounding area.
Eventually, Tibbs entered the bar as a lawyer and resigned from the force to practice in Jackson, Mississippi with occasional cases in Sparta while Gillespie was finally dismissed as Police Chief by Sparta city council and replaced by Hampton Forbes (Carl Weathers) the town's first African American in that position. Fortunately, Gillespie finds a new post of equivalent authority as County Sheriff and the two senior police officers find they get along in excellent fashion both in the professional and personal spheres as they deal with their home's problems.